At the Water and Carbon Group, our team of experts collaborate across multiple disciplines to create land-based assets, with a focus on biodiversity, longevity and co benefit generation.

What sets us apart is our ability to develop a thorough understanding of each project and deliver industry leading solutions with a focus on quality and longevity. We approach each project with the goal of creating maximum value for the client and surrounding communities and ecosystems.
Dan Cole
Manager of Ecology
What we do
We specialise in delivering environmental solutions that transform degraded urban and agricultural landscapes and reinstate natural systems, native vegetation, and wildlife. Our team have the expertise and resources to deliver a full range of consulting, design, establishment, and maintenance services.

We regularly complete projects for local and state government departments, organisations, and private landholders. At WCG, we pride ourselves on developing productive, long-lasting relationships with our customers.

Concept designs
Feasibility studies

Restoration & reforestation
Treatment wetlands
Sludge treatment reed beds


Where we work
We have the capabilities to deliver ecological restoration and climate change adaptation projects across most regions throughout Australia, and the South Pacific.

With our revegetation operations being based in Springwood, QLD our team can deliver regular site maintenance and watering services for sites located in South-East Queensland and Northern New South Wales.
Ecological restoration
Riparian & Floodplain Restoration
Many waterways throughout Australia have developed sections of degraded embankments, creating low-lying areas devoid of native vegetation. Healthy riparian zones and river embankments help to reduce erosion, increase water quality, regulate flows, create visual amenity, and provide habitat for native wildlife.

Our ecology specialists design and deliver robust riparian restoration solutions that aim to restore degraded or underutilised land, protect prime agricultural land, and restore environmentally sensitive lands such as river frontage.

The WCG approach to riparian restoration is underpinned by knowledge transfer and partnerships with leading educational providers.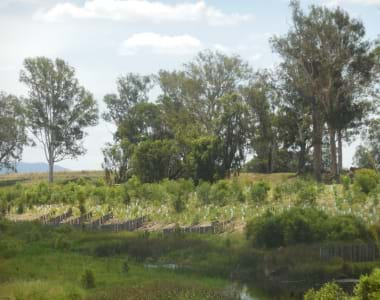 Vegetation Offsets
Commercial and residential expansion that removes native vegetation often requires offsetting by local municipalities. Ensuring vegetation is at least restored to previous concentrations is vital for maintaining biodiversity and creating visual amenity in frequented areas.

Our team undertake comprehensive site evaluations to best optimise available land to deliver vegetation offsets tailored to the surrounding ecosystems. With a focus on quality, our experienced practitioners employ modern planting techniques to ensure the longevity of each site & project.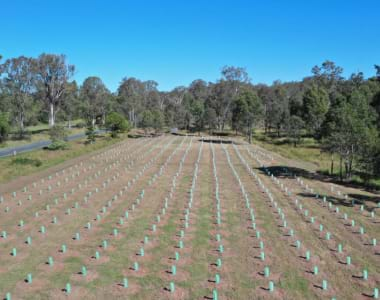 Habitat Rehabilitation
Land clearing for agriculture and settlements has created fragmented landscapes that have significant impacts on fauna.

WCG as consultants and contractors have worked on landscape connectivity projects at various scales from reinstating corridors to enhancing niche urban wildlife refugia. Project examples include planning and implementing 150 ha. of forests to have high koala habitat values, designing and implementing ecological plantings within powerline easements as trials to increase connectivity and managing various flying fox habitats in urban landscapes.

Our projects not only increase and enhance habitat, they also improve local communities. WCG engage with a diversity of stakeholders often in all project stages. We have proven capabilities in both conservation planning and on-ground delivery through our ecology team.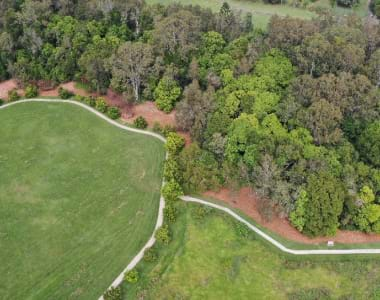 Endangered Ecological Communities & Threatened Species Management
Agriculture and urbanisation have led to fragmented landscapes. Numerous vegetation communities and species have become vulnerable due to these disturbances and ongoing degrading pressures.

WCG are consultants and contractors that are specialised in rehabilitating a range of Endangered Ecological Communities including managing threatened species. Current projects include communities that are Critically Endangered such as Lowland Subtropical Rainforest sites that are within challenging riparian zones and reinstating Melaleuca irbyana, Swamp Tea-tree, forests adjoining remnant sites to increase the recovery.

WCG not only achieve on-ground conservation outcomes for such important vegetation, we also work with the communities including a diversity of landholders to increase the awareness and understanding of endangered communities and threatened plants. The commitment of WCG to engage has assisted to facilitate 'local ownership' and increased protection through community values.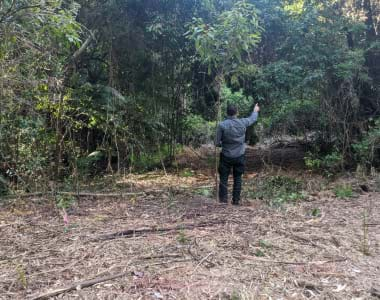 Integrated Ecological Treatment Solutions
Effluent Reuse & Irrigation
The discharge of treated wastewater creates valuable opportunities to develop sustainable land based effluent disposal schemes. With the ability to polish effluent streams, produce new ecological space or irrigate pasture crops, effluent disposal schemes are often considered a preferred option by regulatory bodies, as opposed to discharging direct to waterways. High quality reuse schemes have the potential to provide strong monetary gains and help to reduce pressure on potable water stores & sources.

It is recommended that effluent irrigation schemes are designed as integrated solutions to upfront treatment to help achieve the highest quality outcomes. The success of a solution also affected by the ability to ensure disposal rates match the capacity of available land and tolerance of selected vegetation to withstand the characteristics of the effluent.

The Water and Carbon Group can design and deliver various effluent disposal schemes that align closely with project objectives and available resources. Additionally, we have the expertise to provide agronomy assessment and modelling, planting advisory services and irrigation delivery design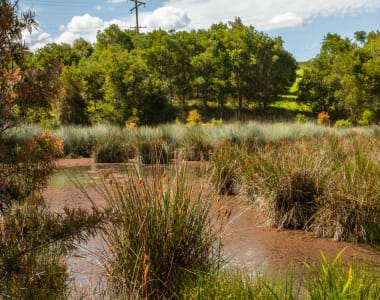 Stormwater & Treatment Wetlands
The characteristics of stormwater vary greatly depending on the catchment profile and contaminants present. It is vital that stormwater treatment solutions are designed to be highly flexible and robust in their ability to treat and manage highly variable streams.

Designing stormwater treatment solutions requires an individual approach that considers the hydrological flow aspects of a catchment and ensures that the created environment is conductive for vegetative habitats to thrive.

Treatment wetlands are often a great solution for treating stormwater, as they are variable in their application and are effective in organic and suspended solids removal, nitrification and filtration. They are also capable of integrating several media types to enhance treatment (i.e. zeolite and activated carbon) and retain water for reed and vegetation growth.

Our environmental practitioners and wastewater engineers collaborate closely to deliver dynamic stormwater treatment solutions that focus on high quality treatment outcomes and reusability. With a strong background in treatment wetland modelling, design and development, our team is also well-equipped to develop solutions for most wastewater streams.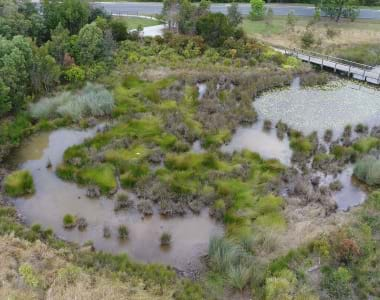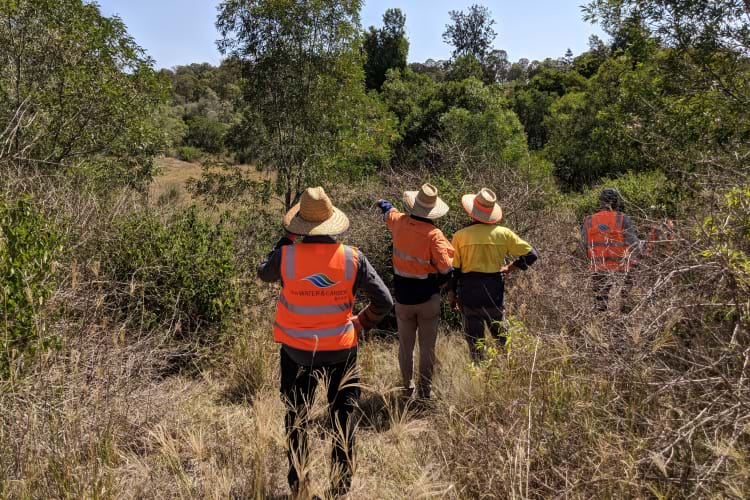 Creating a lasting positive impact on the environment.
Talk to us about your project today.